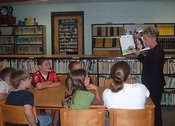 Mrs. Reese Message
We are honored in Catoosa County Public Schools that you trust us with your child's future. I promise you that every employee in our school system is focused on their role in your child's academic success. We feel it is a great responsibility to develop children into good citizens and leaders of the future, and we understand that we must have a world-class school system in order to accomplish this goal.
One of the highlights of my job is being in our schools. When you walk our halls and visit our classrooms, you will see students who are happy to be in school and excited about learning. This could not happen without caring and dedicated school employees who are focused on the individual needs of each and every child.
I would like to invite you to experience Catoosa County Public Schools for yourself. I am so impressed with the education our teachers are providing our students and the commitment of each employee in every school. You have an opportunity to get a snapshot of our school system by visiting our website, but you should take time to experience the exciting things happening in our schools firsthand.
While I am very proud of the dedicated school employees who are serving our students, I know that the success of our schools depends on our partnerships with parents, businesses, and the community. I am so grateful for strong partnerships with all our stakeholders.
As parents you have dreams for your children, and you wonder what their futures will hold. We share the hopes and dreams you have for your children, and I promise you that our employees are providing learning opportunities for students today so they will be prepared and successful in the future.